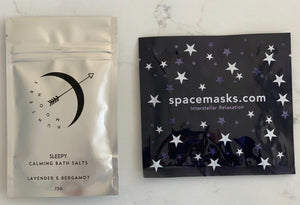 And relax ..... this gift duo is the perfect treat for anyone who need a bit of down time. The duo includes a Hunters Moon luxurious Lavender and Bergamot essential oil bath salt pouch and a Spacemask to sweep you off on a journey of relaxation.
Sleepy Lavender & Bergamot bath salts infused with the essential oils of Lavender & Bergamot, 75g.
Jasmine infused Spacemask.