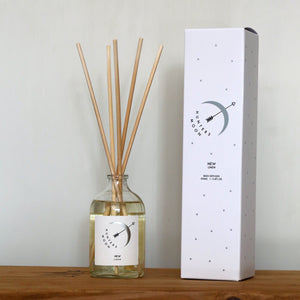 Calm, clean & crisp. New is inspired by that amazing smell you get from fresh laundry! We are thinking fluffy white towels & white linen sheets. It will leave your home smelling spotless! 

Simply add reeds into your New diffuser bottle & enjoy a #amomentforme.
Hunters Moon 100ml diffusers are made using a vegetable base, alcohol free & throw a subtle scent. 

Housed in recycled glass bottles with up to 3 months of fragrance time to enjoy.